Ortho Spot Welder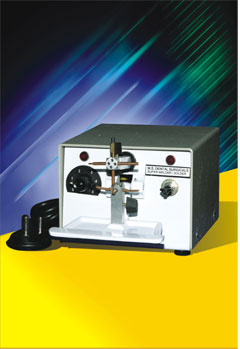 Portable table top, light weight spot welder
Feather type finger witch,automatically activates the solid state circuit, releaing the welding energy.
Rotary type switch with progressive heat station for welding and auxiliary functions.
Turret with one soldering and 4 welding electrode combination.
Rocker switch for easy transformation from welding to soldering and vise versa.
The carbon electrode specially designed only for soldering.
Functions
Welding with four welding stations, sharp electrodes both sides for optimum welding.
Soldering carbon with flat copper tip. All tips are made of special grade Copper Alloy high density.
Technical Features
Over load protection fuse 2 amps.
Works on 220V AC Current.
Output 2.5V AC Current very safe.
Insulated AC Power transformer for various
Optional
Flexible soldering cable
Annealing jack
Foot switch welding and soldering